In pink bras, women stand on stage with CEO to say "Bust up B of A" before it busts America
CONTACT: press@occupywallst.org, 347-292-1444
For this action only: Rae Abileah, 415-994-1723
During a talk by Bank of America CEO Brian Moynihan to financial investors in New York City's Waldorf Astoria Hotel on March 8, CODEPINK women got on stage, greeting the CEO on behalf of the nation's women for International Women's Day. Taking off their suit jackets and blouses, they stood next to the CEO in their pink bras, with Bust up Bank of America written on their chests.
"We told Moynihan to stop foreclosing on our homes and to stop bankrupting America," said CODEPINK cofounder Medea Benjamin.
"I was a Bank of America customer for 20 years and I've had enough. I told Moynihan how shameful it is that he is personally making millions while foreclosing on the homes of poor women," said Rae Abileah, CODEPINK codirector, who stood on a table—in her pink bra—right beside the CEO.
CODEPINK cofounder Jodie Evans, dressed as Wonder Woman in a hot pink bodice, marched down the aisle of bankers chanting "Break up Bank of America before it breaks up America" before being evicted by security. "International Womens Day is a perfect day to stand up to the tyranny of bankers, whose greed is hurting millions of American women."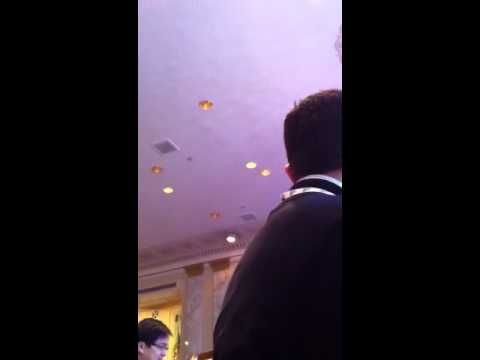 This action is part of a national day of action on International Women's Day organized by members of Occupy Wall Street, Women Occupy, and CODEPINK to creatively protest the destructive policies of the world's leading financial institutions. Another action will take place today at 2pm at a Bank of America branch near Liberty Square (150 Broadway). For a full list of actions happening around the country visit www.womenoccupy.org.
Additionally, on Saturday, March 10th from 1-4 pm, a coalition of women will continue to celebrate International Women's Day with a gathering in Union Square at 14th St including a protest at Bank of America and march down Broadway to Liberty Plaza. Please note that our permit has been denied so we will improvise and march on the sidewalk.
Occupy Wall Street is part of an international people powered movement fighting for economic justice in the face of neoliberal economic practices, the crimes of Wall Street, and a government controlled by monied interests. #OWS is the 99% organizing to end the tyranny of the 1%. 
For more info www.occupywallst.org